GEMS 101: A SCHOOL BUILT ON MORE THAN 60 YEARS OF SUCCESS
To many in our city, GEMS World Academy Chicago is a fairly new name. Given that we welcomed our first students just a few years ago in fall 2014, it is understandable that our private-school community is considered a newer addition to the city's landscape of high-caliber academic institutions. Did you know, though, that our school is built on over half a century's worth of experience and knowledge in terms of what it takes to put quality education within the reach of students of all different backgrounds?
In 1959, GEMS Education founders K.S. and Mariamma Varkey left India in search of better opportunities for their family. Settling as teachers in Dubai, they quickly discovered the power of education in building intercultural understanding and in creating bright futures for students arriving from all over the world to the burgeoning metropolis. Their local vision soon became a global one — to make a quality education available to everyone. What started as a school of three teachers and 27 students has grown to be one of the largest and most respected education groups in the world.
Nearly 66 years later, the Varkeys' original, simple vision of educating as many students as possible remains, whether through GEMS schools or through The Varkey Foundation, the organization's charity partner. The foundation exists to ensure that children who are not afforded a quality education receive this privilege by emphasizing and investing in teachers to make clear a very important message: When it comes to student outcomes, teachers matter most.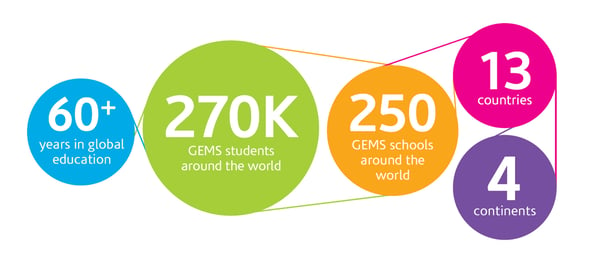 Today, the GEMS Education track record of excellence can be seen in the exam results achieved by all the curricula taught in our schools, whether it be the International Baccalaureate, like in our case at GWA-C, or the British National Curriculum, or India National Curriculum. GEMS students excel across multiple dimensions, garnering global recognition with more than 2,100 national, international, and regional awards for academics, sports, and arts. Our students are also accepted to some of the world's top universities and colleges. In the last five years, they have received acceptances from over 1,050 universities across 50 countries, including all eight Ivy League universities and 24 Russel Group universities in the U.K. Since its very inception, GEMS Education has become synonymous with forward-thinking and innovative education that prepares today's students to solve next-generation problems.
As we head into our sixth year as a school community this fall, we are proud to contribute to the GEMS legacy of excellence and develop the culturally competent leaders of tomorrow. In all that we do here, we are inspired and guided by the expertise and history of our network.
---
Submit this form to request information about GEMS World Academy Chicago.