ALL ABOUT ADMISSIONS: A PRIMER FROM GEMS WORLD ACADEMY
It feels like just yesterday we were starting the summer of 2019. Our teachers are back and gearing up for the 2019-2020 school year. We are preparing to welcome more students than ever before in the history of our 5-year-old school, and we are looking forward to a landmark year, especially with the opening of our new, state-of-the-art Upper School Campus.
Considering a new school for your child – especially your child's first school – can feel like a daunting undertaking. We recognize that and hope to make the experience you have a GEMS a positive one. In light of that, and in light of some changes we have made in our admissions process and timelines, we wanted to lay out a number of frequently asked questions related to admissions to help you feel prepared for a seamless admissions experience.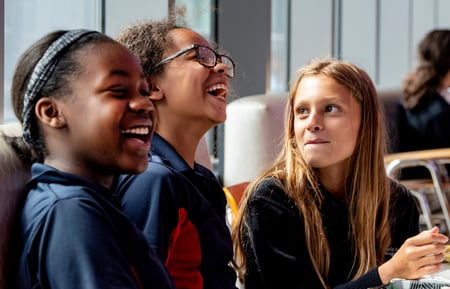 When should I apply for admission for my child?
As of August 2019, we still have select seats available for this school year and will accept transfers throughout the year where there is space and providing students meet the criteria for enrollment. You can apply for admissions for the current school year (2019) through Ravenna here.
We are accepting applications for 2020 for grades preschool through 12 as of mid-July 2019. The best way to apply for 2020 admissions is through Blackbaud, our new application provider, which you can find here.
What are your admissions timelines?
We offer two key admissions tracks for the 2020-2021 school year, which is different from what we have done in prior years. After Regular Admissions, we will continue to accept applications on a rolling basis, as we have always done, based on grade-level availability.
Priority Admissions
Priority Admissions is a great choice for siblings of current students or students for whom GEMS World Academy Chicago is a first choice. Students will have the best chance at admission during our Priority Admissions track. Students who are admitted and enroll in our priority admissions track do not pay the new-student fee.
Application Submission Deadline: October 28, 2019
Application Profile Completion Deadline: December 1, 2019
Admissions Decision Notification: Week of December 9, 2019
Admissions Response Due by: January 5, 2020
Regular Admissions
Regular admissions is aligned with the timeline of many other schools in Chicago.
Application Submission Deadline: January 6, 2020
Application Profile Completion Deadline: February 16, 2020
Admissions Decision Notification: Week of February 24, 2020
Admissions Response Due by: March 8, 2020
What are the admissions steps and requirements?
Before applying, we recommend all families visit us for an information session/open house or a personal tour. This is not required, but is a great investment of your time to learn more about our program first-hand.
Submit an application and pay the application fee online. Upon applying, you will be provided a checklist to follow on your way to a complete application profile.
All applicants are required to:
Provide historical school records, test scores, and report cards
Participate in a parent meeting with Admissions
Provide teacher recommendation(s)
Register to participate in an applicant evaluation:

Preschool-kindergarten: playgroups conducted by our early learning staff
Grades 1-4: school visit/shadow day and GEMS assessment
Grades 5-10: school visit/shadow day and ISEE, SSAT, ACT, Aspire, or PSAT scores
Grades 11-12 Diploma Program: school visit/shadow day and ISEE, SSAT, ACT, Aspire, or PSAT scores, world language assessment (where applicable)
When can my family and I come for a visit?
We welcome the opportunity to meet and any all families and the applicants themselves at our admissions events and personal tours and encourage you to register for events as soon as possible as they do fill up. (Note, sometimes the evening admissions events can be hard to sit through for young children.) We offer the following as opportunities to get to know our school:
Evening Admissions Events: these events are at night and will give you a presentation-style overview of our program and what makes GEMS World Academy Chicago a unique place to learn. We typically have school leadership, admissions team members, parents, teachers, and students present.
Coffee with Leadership Events: we offer small group opportunities for parents seeking an intimate, more informal question and answer period with our Head of School, Mr. Tom Cangiano, as well as our Head of Lower School, Ms. Cindy Rigling, and Head of Upper School, Ms. Tracey Wood.
Open Houses: this is often cited as the most helpful admissions event in feedback we have heard from prospective families as you will be able to cover quite a bit of ground in getting to know our program, and the incredible teachers that bring it to life. These are typically big, weekend events with anywhere from 50 to 200 people in attendance. Our teachers from all grades and disciplines set up tables in our gymnasium with sample materials from their classrooms and are happy to talk to you about their classes and what life is like for a GEMS student.
We will offer additional, special events throughout the year such as Upper School Campus tours and special panel discussions on the merits of the International Baccalaureate program. Be sure to check our website for these unique opportunities.
What do you look for in an applicant?
No two applicants to GEMS World Academy are exactly the same, and that is precisely what we love about our community. We have students from all different backgrounds attending our school and we pride ourselves on being a diverse independent school in heart of Chicago. We seek students who will contribute to our dynamic community not just in terms of the classroom learning environment, but also in creating traditions, leaving a legacy, and embodying our four core values of: Leading Through Innovation, Pursuing Excellence, Growing by Learning and Global Citizenship. When our students identify a problem in their communities, they have the confidence and grace to propose solutions. We love to see this sense of responsibility to self and to others, or the promise of it, present in our applicants.
GEMS World Academy is a selective school, and that selectivity does increase for students looking to enroll in our later grades. The International Baccalaureate (IB) framework, especially the IB Diploma Program, is a rigorous academic program that prepares students for entry to competitive colleges and universities. With this said, we believe in the power of our students and our teachers and the limitless achievement that come with support and encouragement, so we welcome students with diverse academic histories to apply.
What will tuition be for the 2020 school year? Is financial assistance available?
Tuition for the 2020 school year will be set by December, prior to the timeline of when our Priority Admissions applicants need to provide their admissions response. We do offer financial assistance that is determined based on demonstrated financial need through FAST, the software we use to collect financial information and calculate an award. The sooner you apply, the more likely you are to receive financial assistance, if you qualify. We do not recommend waiting until after the Regular Admissions deadline to apply as resources may be unavailable at that time.
I have questions. How can I get in touch with someone from admissions?
We very much enjoy hearing from you. Please feel free to contact our admissions team at any time.
---
Submit this form to request information about GEMS World Academy Chicago.