EXPLORING THE ROLE OF ART IN PROPAGANDA

Art as self-expression. Art as activism. Art as weapon.
A group of eighth-graders at GEMS World Academy Chicago recently explored the ways in which art can be used to make social or political statements. They created original works of "propaganda" that commented on issues the students care about.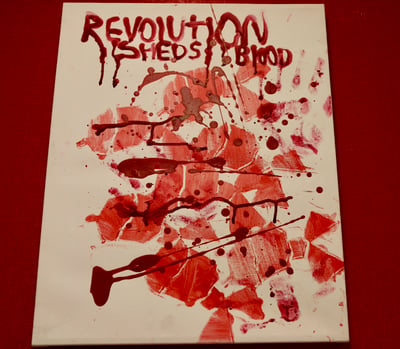 The project emerged from a transdisciplinary Field Study to the University of Chicago in October, during which students explored the "Revolution Every Day" exhibit at the university's SMART Museum of Art. The exhibit includes images and artwork that emerged in the wake of the Russian Revolution. (Our students had been studying revolutions in their humanities classes at the time.)
The amount of propaganda we're exposed to every day has become a hot topic in the political and media worlds, as social-networking outlets make it easier than ever to send messages to large groups of people. As part of this project, our students researched what propaganda is and how art can used to disseminate it.
The works of art the students created cover topics such as women's rights, racism and media manipulation. The students used a variety of materials and media to make their statements — paint, photographs, sculpture. The results are creative and powerful.
"I love what the students came up with," GEMS art teacher Elysia Sheehan said. "They worked with specialists in the field to develop their understanding for what makes a piece of artwork propaganda. Then they chose a topic and researched, planned and designed a piece of persuasive artwork."
The students wrote reflections about their works. Here are a few excerpts:
"My propaganda art addresses media influence in young lives, and how it shapes our future. My goal isn't to tell you CNN is an unreliable source ad everyone should listen to the New York Times, but for the audience to be aware of faulty news and the biased perspectives of each news source."
"I want to show through art that any revolution that involves fighting can shed blood. I want to instill fear in my audience through this piece."
"Ideally it would be ... a natural thought that everyone is human and should be treated equally, but unfortunately it's not. While I researched my project and looked at pictures it broke my heart to see how cruel the world is and how cruel the thoughts of people are."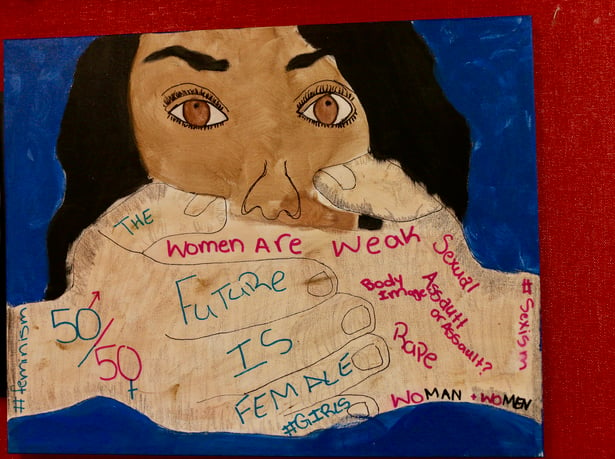 To see more our eighth-graders' work, please explore the photo gallery here.
GEMS World Academy Chicago, an independent private school, values transdisciplinary learning and regularly ties academic subjects together as part of its International Baccalaureate curriculum framework.
---
Submit this form to request information about GEMS World Academy Chicago.