GEMS 101: A SCHOOL FOCUSED ON GIVING BACK
To many in our city, GEMS World Academy Chicago is a fairly new name. Given that we welcomed our first students just a few years ago in fall 2014, it is understandable that our private-school community is considered a newer addition to the city's landscape of high-caliber academic institutions. The second post in our GEMS 101 series covers our dedication, as both a school here and across our network, to giving back in ways both big and small.
From the network level, GEMS Education is proud to support the Varkey Foundation, a charitable organization founded by Sunny Varkey, Chairman of GEMS Education, to improve education for all students and elevate both the status and capacity of teachers worldwide. The foundation works on a large scale, partnering with governments, local leaders, and experts, to help teachers improve outcomes for their students. Through their work in Uganda, Argentina, and Ghana, to pick just three examples, the foundation has funded training for 46,000 teachers, improved school leadership in over 3,000 schools, and transformed learning for more than 1.6 million students.
Another key highlight of the work of the Varkey Foundation is the Global Teacher Prize, an annual, $1 million award given to an exceptional teacher who has made a profound contribution to their community and their profession.
The prioritization of giving back and supporting our community doesn't stop with the Varkey Foundation; citizenship and contributing to a better future for all are woven into the fabric of all that we do here in Chicago.
Every year, each grade level at GEMS World Academy Chicago selects a local organization as a beneficiary of the Parent Teacher Organization's fundraising gala. The choices emerge from our curriculum. This year, students chose organizations that deal with homelessness, sustainable consumption and at-risk youth, among others. A total of $57,000 was raised for the organizations.
In the last few years, students across various grades embodied and reflected our school's commitment to citizenship.
On their own volition, third-graders decided to form a club called Paintings for Positivity — they created paintings to donate to bring some light and cheer to patients at a local children's hospital. The works they created will be displayed at Shirley Ryan AbilityLab in Chicago.
Fifth-graders, after visiting a homeless shelter as part of their Human Rights unit, launched a collection drive for socks, toiletries and other basic items that the homeless often lack. The students brought the items to one of the shelters.
Upper School students collected books for Bookwallah, a Chicago organization that distributes books to orphans and children dealing with trauma all over the world. In addition to being a regular volunteer, one student started creating videos of the book drives at GEMS to help spread the message further.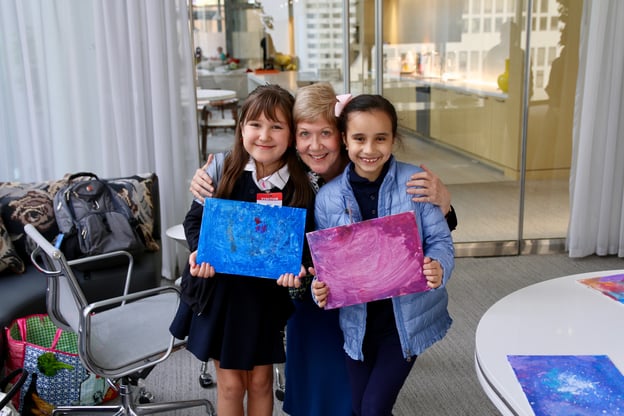 As a result of their inquiries during their Waste unit, our kindergartners strengthened the recycling program at GEMS by creating signage, moving recycling bins to more visible locations and then collecting and emptying the bins each week in the proper recycling containers in our parking garage.
At GEMS World Academy Chicago, when we think about the legacy that will be left behind by the students who move through our program, we are focused as much on them carving a path of academic excellence as we are of them instilling in those to come the importance of contributing to the success and harmony of their communities, both local and global. We look forward to the ways our students both new and returning will contribute to the ever-growing and developing definition of how we give back to one another, to Chicago, and to our larger global community.
For more information about the incredible work of the Varkey Foundation, please visit their website.
---
Submit this form to request information about GEMS World Academy Chicago.