HOW PEOPLE GIVE THANKS AROUND THE WORLD
In the United States, Thanksgiving is the time when families gather together and express gratitude for all they have — often while enjoying the traditional feast of turkey, dressing, mashed potatoes and pumpkin pie.
You might consider Thanksgiving to be a uniquely American holiday, but national days of thanks are actually a global, multicultural phenomenon. While the event goes by different names in different countries, it almost always incorporates a harvest theme. Here's a brief rundown of some traditions around the world for you to enjoy as you eagerly await this year's turkey day. Happy Thanksgiving!
Canada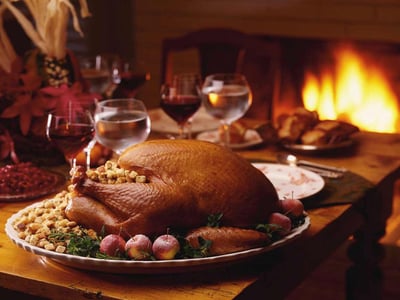 Canada, our neighbor to the north, celebrated its version of Thanksgiving more than 40 years before the first Pilgrims arrived in Massachusetts. Explorer Martin Frobisher began the tradition in 1578 to give thanks for his safe arrival in Newfoundland. For a few hundred years, the date of Canada's Thanksgiving kept changing from late October to early November. In 1957, Canada's parliament designated the second Monday in October to be a day of thanksgiving to God and to the bountiful harvest. Other than the date, Canada's Thanksgiving traditions are very similar to America's, complete with large family dinners featuring turkey and pumpkin pie.
South Korea
In South Korea, the celebration is called Chuseok, a three-day festival that begins on the 15th day of August according to the lunar calendar. Translated to the solar calendar in use today, the date of Chuseok varies every year, but always falls in September or October. During the festival, Koreans visit their ancestral properties and make offerings of freshly harvested food. The traditional dish for Chuseok is called Songpyeon, a rice cake filled with sesame seeds and beans or chestnut paste. During the festival, Koreans participate in singing, wrestling and archery competitions. They also give gifts to relatives, friends and business acquaintances to show their appreciation and respect.
United Kingdom
Although not declared a national holiday, the United Kingdom's thanksgiving is a Harvest Festival usually celebrated in September, on the Sunday of or near the harvest moon. On this day, they give thanks for a successful harvest and celebrate it by praying, singing and preparing baskets of fruit to take to churches. They bring food from their fields to display at a Harvest Festival service and then distribute it to the needy.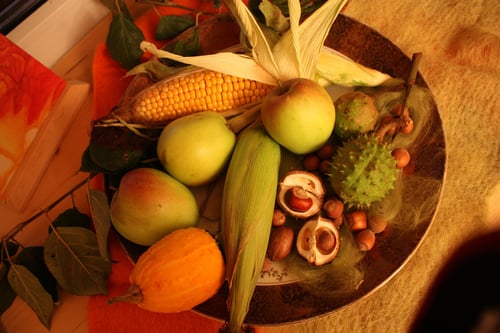 Africa
Harvest is also the focus of thanksgiving celebrations in many African nations. These celebrations usually take place in August, marking the end of the rainy season. Because yams are often the first crop to be harvested, the Festival of Yams is one of the most popular events, but there are other celebrations, as well.
Germany
For Germans, the day is called Erntedankfest, which means "harvest thanksgiving festival," and it's held in September or October. It's a religious observance, mostly celebrated in rural areas, in which participants attend a sermon in the morning, then have a thanksgiving procession to present the harvest crown to Erntekonigin, the harvest queen. The feast consists of fresh foods from the harvest and chicken that has been fattened up for the occasion. Participants donate any leftover food to the needy and further celebrate the holiday with music and dancing. Evening services, torch and lantern parades, and fireworks are also held in some towns.
However you celebrate Thanksgiving, remember that by taking time to step back a bit and feel gratitude for what you have, you are part of a global tradition!
---
Submit this form to request information about GEMS World Academy Chicago.