Q-AND-A WITH SCIENCE 'NERD' KYLE HILL
Science writer and Internet personality Kyle Hill has cultivated a devoted following by exploring the connection between science and pop culture. He has written for publications like Scientific American, Popular Science and WIRED, and he's a regular contributor to the popular website Nerdist.
Later this month, Hill will visit GEMS World Academy Chicago and speak to our community about how to make science both fun and accessible to young people. The event will take place at 6 p.m. Tuesday, April 25. To reserve your spot, RSVP here.
In preparation for his appearance, we asked Hill some questions about his life and his work.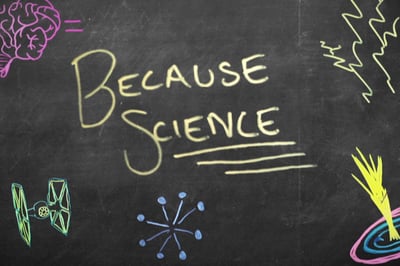 Q: Talk about your interest in science. Did it begin during childhood?
A: I was always a nerd growing up — dinosaur CD-ROMS, museum visits, catching bugs, playing with LEGOs, watching Bill Nye the Science Guy. Going into college, I went straight for engineering, and during that time, I discovered that I liked trying to explain science and excite people with it more than actually doing it. After that, I went into a communications program and started my professional work.
Q: When did you start to connect science and pop culture? What brought about that connection in your mind?
A: I'm that guy who watches a movie and is like: "Wait, could that really happen?" So when I started writing professionally, I leaned towards pop culture already. It wasn't until I had a few articles do well that I decided to focus almost exclusively on that angle. It seemed to resonate with the audience I wanted to reach, so I kept doing it.
Q: What do you enjoy most about visiting schools and speaking to students?
A: Everything I do is with the goal of getting a new generation interested in science and STEM, like science communicators did for me. The best part about the work is hearing from teachers and especially parents that their kids are engaging with the content and are suddenly interested in science, or didn't like science until they heard it communicated to them in a new way. Someone has to save the world — getting more kids interested in STEM can only increase that pool of people.
Q: Are you worried that science and scientific knowledge are becoming devalued in this country? Why or why not?
A: Expertise and intelligence are certainly devalued in this country, and the more we change what "facts" are, what "news" is, the longer real, and really complicated, problems are going to go unsolved. For example, climate change is on pace to wipe out half of all species within our lifetime, and the current U.S. political climate is hampering efforts to deal with the problem. The more we undermine expertise, science and research, the worse-off we will be and our children will be.
Q: Finally, who wins in a race, Superman or Flash?
A: Both Superman and The Flash can apparently go faster than light-speed, and so technically both of them could reach the finish line before the race even started. Weird, right?
---
Submit this form to request information about GEMS World Academy Chicago.