ROOFTOP COMMONS OFFERS NEW PROGRAM OPPORTUNITIES

This is the third post in our #BuildingBiggerDreams series highlighting our new Upper School campus. Follow along on our blog and on social media as our community readies itself for this critical milestone — the completion of our preschool-through-grade-12 learning community. Want the next post in your inbox? Subscribe to our blog.
The GEMS World Academy Chicago Upper School, opening in the fall, reflects the very latest in architectural thought and practice for urban schools. From the lobby on the ground floor to the outdoor student commons on the roof, every space is designed to energize and inspire our learners.
In the third of a regular series of posts about specific features of the Upper School, we look at the innovative rooftop.
One of many flexible, multipurpose spaces in the Upper School, the rooftop deck consists of a student commons, a fitness deck and an 8,000-square-foot artificial-turf recreation area. The commons serves as a location for outdoor classes (weather permitting, of course), a place for independent study, a meeting spot for school clubs and other organizations, and a place for students to unwind between classes.
Dramatic views of the Chicago River, Lake Michigan and the city's skyline make this a particularly inspirational spot for study, one that connects students to the city and fosters a genuine sense of place.
"Our approach to learning encourages teachers and students to seek out different environments in which to explore and discover," GEMS Head of School Tom Cangiano said. "While this rooftop is part of our building, it provides a different kind of learning experience, which reflects that larger approach."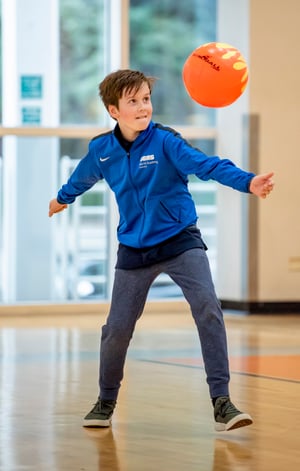 In addition to the student commons, the rooftop provides unique programming areas — a fitness deck and a small recreation area for before-school and after-school use. Adam Justice, dean of students and athletics director at GEMS, said the space opens up new opportunities for the school's athletics and extracurricular programs.
"As well as giving the students somewhere to relax during down times in the school day, this new outdoor space can be used for soccer practices, flag football, and potentially lacrosse or hockey," Mr. Justice said. Karate, yoga and outdoor volleyball are other possibilities, he said.
There are curricular benefits, too. GEMS uses the International Baccalaureate curriculum framework. One component of the physical education program at the high school level revolves around the analysis of physical movement. The rooftop space will provide a great space for that, Mr. Justice said.
"We plan to explore training techniques and bring more of a scientific approach to the subject, which is essential to us eventually offering Sport, Exercise and Health Education as part of our growing IB offerings," he said. "Our students are really going to benefit from this innovative design idea."
The GEMS Upper School, which opens for the 2019-2020 school year, completes GEMS World Academy's preschool-through-grade-12 campus. In addition to the rooftop commons, the building features fully equipped science and design labs, a two-level library, a full-sized gym and a multipurpose auditorium/theater/multimedia lab.
The building was designed by bKL Architecture, the firm that designed our award-winning Lower School. As is the case with the Lower School, the architects set out to create a vertical urban school building that makes the most of available space and creates environments that engage students' minds.
"It's really novel to have this kind of outdoor space on the top of your building," bKL architect Jonathan Meyer told students during a recent presentation about the Upper School. "It's something that separates your school and your program."
Earlier posts in the #BuildingBiggerDreams series:
Two-level library is the 'heart' of new GEMS Upper School
One space, many uses — the GEMS Upper School auditorium
---
Submit this form to request information about GEMS World Academy Chicago.