THE 'STEAM' CONCEPTS BEHIND OUR NATIONAL PASTIME
Baseball season is the best time of the year for many fans, but it's also a great time for STEAM educators, regardless of their interest in the game.

The acronym STEAM refers to the integrated study of science, technology, engineering, art and math. Baseball, with its multiple moving parts, dramatic angles and distinctive design, offers an ideal laboratory for all kinds of STEAM lessons. Here are some fun STEAM-y facts about baseball, and some ideas for ways to incorporate the National Pastime into the classroom.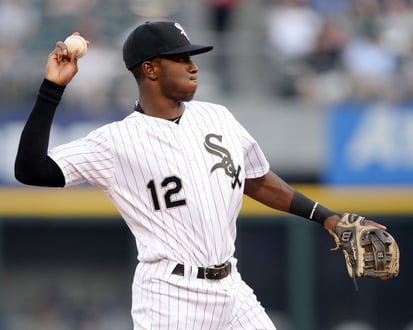 © Ron Vesely/Chicago White Sox
Science behind the sport
The slide: Head first or feet first? One of the more dramatic plays in baseball is the slide, when players hit the dirt as they approach a base and slide in to either beat or evade a throw. Players throughout the years have performed slides both head first and feet first, but which method is faster? David Peters, a physicist at Washington University in St. Louis, says the head-first method has the edge, because the body rotates forward (as in a head-first slide) more quickly than backward.
The "knuckler": Few pitches are as baffling to hitters and fascinating to physicists as the knuckleball, which is thrown with the pitcher's knuckles or fingernails pressed into the surface of the ball. The pitch is often described as being
"erratic" and "fluttering." Retired University of Illinois physicist (and knuckleball fanatic) Alan Nathan says that in fact, knuckleballs follow as smooth a trajectory as "ordinary" pitches. The difference is that because knucklers are thrown with very little spin, hitters can't predict which way they'll move, which makes them very difficult to hit. Read about Nathan's work here.
Too much of a good thing?: Baseball's regular season includes far more games than any other major professional sport — 162 of them. But two physicists from Los Alamos National Laboratory say that many more games would have to be played to ensure that the best team in each of baseball's leagues ends up with the best record. How many more games? The 16-team National League would have to play 256 games in a season to eliminate the statistical probability that lesser teams would prevail.
"Crack" vs. "Ping": Major League Baseball requires players to use bats made out of wood, but players in high school and college use aluminum bats. The most obvious difference between the two for fans watching a game is the sound made when a bat connects with a pitched ball. Researchers at Penn State University say that wood bats "crack" and aluminum bats "ping" in large part because the barrel of an aluminum bat is a hollow cylinder, causing sound to vibrate in different ways than when a solid wood barrel hits a ball.
Behind the "take": Veteran hitters often "take" a pitch or two (i.e. they don't swing at it) at the start of an at-bat, no matter how hittable the pitches might be. Why? Kenneth Fuld, a psychology professor at the University of New Hampshire and a rabid baseball fan, says that taking pitches allows hitters to calibrate how the ball is moving. They do so by abandoning eye contact with the ball as it moves and focusing on the point at which they expect the ball to cross the plate. If it crosses higher, the hitter knows the ball was moving faster than originally thought, and he can adjust his approach the next time the pitcher winds up.
Classroom activities
Math: Baseball lends itself to a variety of in-class inquiries, including mathematics. For example, few sports are as dependent as baseball is on statistical analysis. Educators can pick a favorite local star or two and ask students to calculate metrics like batting average and slugging percentage (or, for pitchers, earned-run average).
Science: Research from the graduate program in acoustics at Penn State University (also alluded to in one of the facts above) provides a treasure-trove of information about the physics and acoustics behind baseball bats. The research presented could spark ideas for any number of lessons about motion, force and sound.
Design: One of the features of Kauffman Stadium, home of the Kansas City Royals, is a touchscreen exhibit that allows visitors to design their own ballpark. Art & design teachers can use this concept to launch a similar project in the classroom. Students could explore all the engineering, architectural and design elements that go into a successful sports venue.
For additional classroom ideas, visit the National Baseball Hall of Fame's website for teachers.
Research for this post was provided by several members of the STEAM group at GEMS World Academy Chicago — Robert Wood, Shannon Hurst and Elysia Sheehan.
---
Submit this form to request information about GEMS World Academy Chicago.