GEMS FAMILIES MAKE INTERNATIONAL CONNECTIONS

In a way, families enrolled at GEMS World Academy Chicago actually belong to five different schools.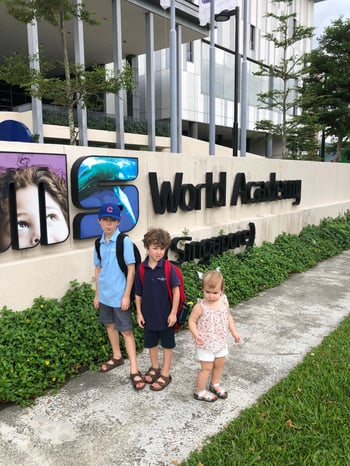 GEMS Education operates five World Academies around the world; in addition to Chicago, they're located in Dubai, Abu Dhabi, Singapore and Switzerland. Our GWA Connect program provides opportunities for students and teachers in Chicago to have authentic learning and work experiences at a sibling World Academy overseas during the school year.
Travel opportunities are rooted in the GEMS curriculum, which emphasizes global connectedness and problem-solving. Our belief, supported by experts, is that working and learning with people from other countries sparks curiosity and helps students develop a more nuanced view of the world.
"It's one of the great benefits of being a part of the GWA global network," GEMS Chicago Head of School Tom Cangiano said. "I can't think of another school that can provide such seamless opportunities within the year for our students and families to engage with peers around the world."
This school year, several Chicago families took advantage of the GWA Connect program, enrolling their children for short stints at GEMS World Academy Singapore and GEMS World Academy Switzerland. In each case, parents say the experience was a rewarding one for their children.
"The GWA network is so unique, and we're grateful that our daughter was able to have this experience," said Ryan Carlson, whose daughter, Celine, a junior kindergarten student at GEMS Chicago, spent time enrolled at the Singapore campus earlier this school year. "My wife and I both believe that international experience contributes to her being a lifelong learner."
Mr. Carlson said the teachers and administrators in Singapore were very welcoming and worked hard to make sure his daughter was comfortable in her new environment.
Enrolled at the Singapore campus at the same time were Julia Gasinsky's two sons, Evan and Jacob. Evan is a junior kindergartner at GEMS Chicago, and Jacob is a second-grader.
"The cultural benefits of this program are incredible," Ms. Gasinsky said. "And I feel like both my sons learned important social and problem-solving skills while in Singapore, like how to adapt to a new environment and new classmates.
"The first time I dropped off my older son at school, he was a little sad. By the time I picked him up, he was happily chatting with a new friend."
Irina Gnevasheva enrolled her fourth-grade son, Nikita, at the Switzerland campus this year.
"We did this once before, but in Singapore. It's wonderful because it gets your child to ask questions and notice differences about the cultures in the United States and other countries," Ms. Gnevasheva said. "And this year, my son really loved the sports opportunities he got in Switzerland."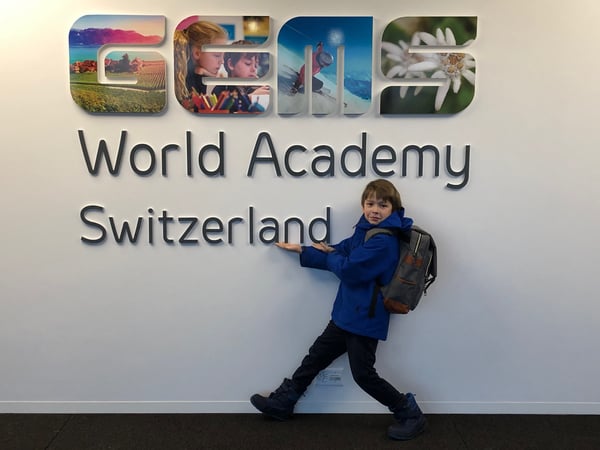 All the parents pointed out that because World Academies in the GEMS network use the International Baccalaureate curriculum framework, the academic transition from one school to another was very smooth.
"It was obvious to us that both schools — Singapore and Chicago — care deeply about their programs, their leadership and their facilities," Mr. Carlson said. "It is opportunities like this that make going to GEMS World Academy so special."
GWA Connect exchanges made up just one component of the travel program at GEMS Chicago this school year. Our Upper School students visited GEMS schools in Dubai and Switzerland, while another group toured businesses and universities in Silicon Valley. In addition, faculty members from Chicago and Switzerland participated in an "innovation exchange."
"We believe we're offering learning opportunities that will help prepare the next generation of global leaders," Mr. Cangiano said.
Watch a testimonial video in which Mr. Carlson speaks about his daughter's experience in Singapore:
---
Submit this form to request information about GEMS World Academy Chicago.